Young people and people of color have become unemployed at disproportionate rates amid the pandemic
Are college students going to be able to find jobs after graduation? Could the election change that?
Nearly 80 percent of registered voters say the economy is an important issue, according to an August 2020 Pew Research Center study.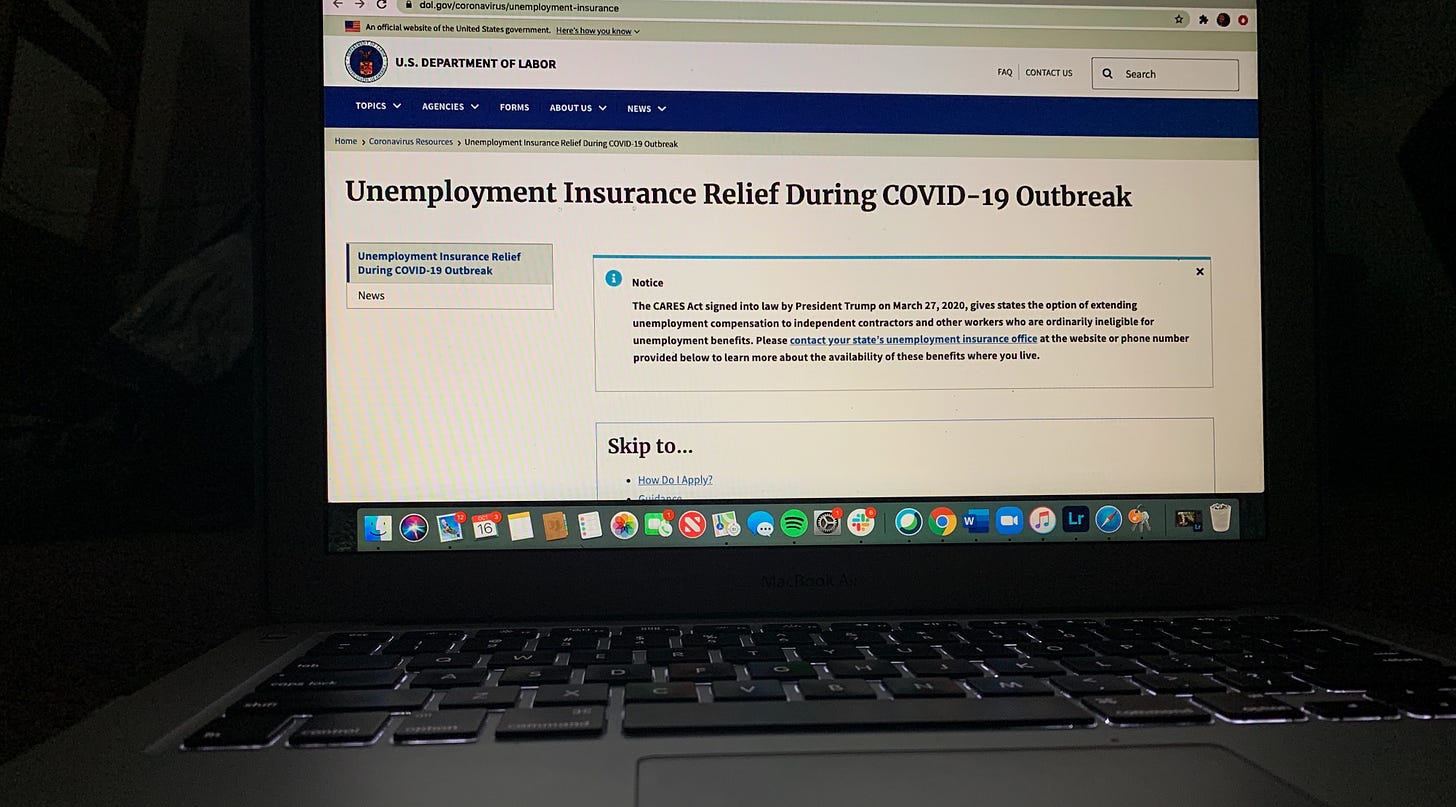 Unemployment rates have skyrocketed since March and over 12 million people are still jobless in the United States. (Photo of Department of Labor website)
In the same study, 88% of President Donald Trump's supporters ranked the economy as "very important," the most of any of the issues they asked about. About 72% of supporters of former Vice President Joe Biden said the economy mattered.
Alternatively, a Gallup poll from late August found that only 12% of Americans view the economy as the country's most important problem, though, with nearly 9 out of 10 respondents listing non-economic problems — such as COVID-19 — as the biggest issue right now.
We spoke with some UConn experts to get a better understanding of the status of the economy and unemployment amid the coronavirus pandemic.
What's the unemployment situation nationally and in Connecticut?
The pandemic has led to rising unemployment rates nationwide as well as at advanced rates among young people and BIPOC.
Despite people gradually returning to work over the past seven months, 12.6 million people are still out of a job nationally, according to the most recent jobs report from the Federal Bureau of Labor Statistics. That puts the unemployment percentage at 7.9%.
However, Dr. Fred Carstensen, a UConn Business professor and Director of the Connecticut Center for Economic Analysis, pointed out that about 26 million people, or 16% of the country, are currently receiving unemployment insurance benefits.
The unemployment rate for Black people fell slightly to 12.1% but has been steadily above the unemployment rate of white people by at least 4% in each month since May. Unemployment among Hispanic and Asian people are at 10.3% and 8.9%, respectively.
Service jobs, which are typically some of the most available to students who can only commit a limited amount of time to work around classes, also have the highest unemployment rate of any occupation with 12% – more than tripling its 3.8% rate from Sept. 2019.
Monthly poverty rates in the U.S. have also risen from about 15% in February to 16.7% in September, according to a recent study done by Columbia University.
However, Black and Hispanic individuals have experienced poverty at a heightened rate compared to white people. The monthly poverty rate for Black individuals was 25.2% and it was 25.8% for Hispanic or Latinx individuals – compared to just 12% for white individuals.
Connecticut's unemployment rate nearly tripled from 3.4% in March to 10.2% in July, according to the Connecticut Department of Labor. The in-state unemployment rate dipped for the first time since April to 8.1% in August.
Job postings on Indeed.com were down 16.5% from last October, as of October 9, as well, the company released Tuesday.
Also of note: People aged 18 to 19 — first- and second-year college students — have the second-highest unemployment rate of any age group with 15.4% — second to the 16 to 17-year-old group at 17%.
Going to college is supposed to provide a pathway to a higher-level, more well-paying job. But what if there's no job when you finish school?
"I remember what I told my UConn students who graduated in May 2009, and that was to continue your education in some way," UConn Political Science Professor Dr. Brian Waddell explained via email when asked if graduating seniors should be confident there will be a job for them come May. "Don't try to enter the job market right away given the constraints that exist, and buff up your credentials by getting a Masters or other type of degree instead."
What do I need to know about government stimulus?
The federal government has passed two stimulus bills and has been in talks for a third for months now. Secretary of the Treasury Steve Mnuchin this week said getting a deal done before the election will be "difficult," according to US News and World Report.
College-age people have largely been ignored in those stimulus packages so far. People between the ages of 17 to 24 years old that were claimed as a dependent on their parent or guardians' taxes were not eligible for the $1,200 stimulus checks sent out as a part of the CARES Act.
"Historically, young adults are the least likely to vote; they aren't seen as having a "voice" so they can be ignored without much penalty in the view of many politicians," Carstensen explained via email.
"A critical reason there has been no federal stimulus is that the damage is now almost exclusively among ethnic minorities and low-wage, low-skill workers – many of whom are not politically active," Carstensen said. "Perhaps students are seen in the same category of being politically impotent and thus easy to ignore."
What political situation is best for the economy?
There is a range of economic plans set forward by candidates running for office.
President's Trump's economic plans have not been clearly laid out, but he has called for increased stimulus in recent weeks and he has championed tax breaks throughout his presidency.
Former Vice President Joe Biden's plan centers around controlling COVID-19 as well as calling for another stimulus bill worth over $2 trillion.
Of course, there is no perfect answer to this question, but looking at how history has played out can give us a look into what might work best.
Since 1949, the nation's gross domestic product has grown the most when there's a Democratically controlled House, Senate and presidency, according to a study done by J.P. Morgan Chase. GDP has grown 4.4% annually on average under Democratic control, compared to an average growth of 2.8% under Republicans or a divided government.
On the other hand, the S&P 500 price index – a measure used to analyze the health of the stock market – has grown the most under a Republican-controlled government, the study found. Republicans have helped produce an average annual return of 11.8%, compared to 9.2% under Democrats and 6.8% under a divided government.
"Republicans help businesses, shareholders, and the wealthy, but in general they are bad for job creation and real growth - the reason is simple: the Democrats spend money, which is a stimulus; the GOP likes to cut spending and cut taxes on businesses and the wealthy," Carstensen said.